About Me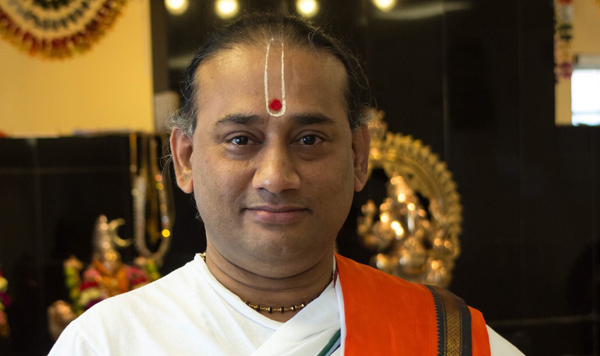 Hindu Priest Chandra Mouli is from India and comes from a generation of Brahmin Priests & Astrologers family. He has keen interest in Hindu Prayers and worship of Maa Durga from his childhood. His knowledge of Astrology, Vedic Prayer mantras has been handed down to him from his learned Ancestors & Gurus.
Hindu Priest Chandra Mouli has also done studies in Temple Worships, Hindu rituals , Hindu scriptures , Astrology . He visited numerous powerful spiritual places and met and learnt all from various Gurus.
His goal is to spread Sanatan Dharma all over the world and help as many people as he can using his God gifted abilities and the knowledge he has acquired. This is not in professional way , this is gifted to him by God and his parents.
As a Hindu Priest , Pandit Chandra Mouli would like to deliver the excellent services according to Vedic & Sanatana Dharma for welfare of devotees and their families. Hindu Priest Chandra Mouli always pray to Maa Durga to grant prosperity, peace, happiness, wealth & health to all devotees through his prayers. Priest Chandra Mouli gets very good response from devotees after finishes pooja ceremony. HTNT Temple priest Plano Ganesha temple priest Tamil Iyer
Contact Pandit

With the most humble personality he warms up to young and old alike. 
He can answer queries regarding Sanatana Dharma, rituals, and Vedas.